Ethereum (ETH) is continuously making headlines due to the notable uptrend it has experienced in recent weeks. The second-largest cryptocurrency by market capitalization has been up by 60% in the past week, and this bull run saw it breach the $1,000 price making it move closer to its all-time high (ATH) of $1,400. It is currently trading at $1,197 at the time of writing, according to CoinMarketCap.
CryptoQuant.com has disclosed in-depth insights about notable strides being made in the Ethereum network. The on-chain data provider noted:
"2% of ETH supply is now staked in ETH 2.0 deposit contract. The total value staked is 2.29M ETH."
With a total supply of 114,150,894 coins, Ethereum has been shedding light on the huge potential the crypto space has to offer as it recently made it to the list of top 100 traded assets with a market capitalization of $136 billion. 
The chemistry behind ETH 2.0 deposit contract
The launch of the much-anticipated Ethereum 2.0 happened on Dec 01, and the deposit contract required a minimum of 524,288 ETH to be locked up. Therefore, ETH 2.0 is already live and seeks to transit to a proof-of-stake consensus mechanism from the current proof-of-work. 
The proof-of-stake algorithm allows the confirmation of the blocks to be more energy-efficient and requires validators to stake Ether instead of solving a cryptographic puzzle. 
The total value staked for the deposit contract continues to grow by the day as it currently stands at 2.29 million ETH. This is a factor making Ethereum's price surge, and open interest increase overwhelmingly. Market insight provider unfolded has revealed that ETH's global open interest has shot up by 75% in the past week.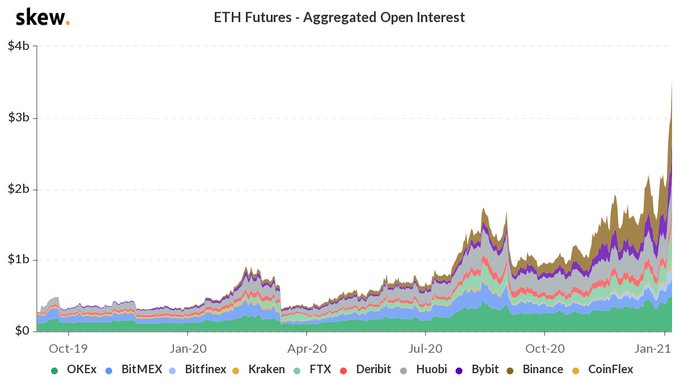 It looks like the sky's the limit for Ethereum as disclosed by veteran Wall Street trader Raoul Pal who acknowledged that its price might reach $20,000 due the current bull cycle based on Metcalfe's Law. 
Image source: Shutterstock