Bitcoin (BTC) is set to end the year on a high after making a bull run that has made it skyrocket to the $28,000 mark on Christmas weekend. It is still going strong, although it has since slid back to trade at $26,665.41 at the time of writing, according to CoinMarketCap. 
Thanks to substantial institutional investments and stimulus money printing, BTC is continuously showing its potential as its bullish momentum is not showing signs of slowing down. CEO of on-chain data provider CryptoQuant.com, Ki Young Ju, took to Twitter to showcase how institutional investors have stamped their authority in the Bitcoin space. He said:
"16% of the $BTC realized market cap is now owned by institutional investors. – Realized Market Cap: $186 billion – Grayscale AUM: $19 billion – Institutions AUM: $30 billion."
Realized market capitalization is a metric calculated by valuing each supply unit at the exact price it last moved on-chain or at the last time it was transacted. As a result, it does not calculate coins which remain unmoved because cryptocurrencies can be lost, unreachable, or unclaimed. This contrasts with the standard market capitalization that values every unit of supply evenly at the current market price. 
Institutional support has brought Bitcoin higher
This high realized capitalization by institutional investors does not come as a surprise because the latter has been on a notable spending spree, with institutions jumping on the Bitcoin bandwagon one after the other. Corporate giants like MicroStrategy have been flexing their huge Bitcoin investments. For instance, the leading business intelligence firm recently purchased BTC worth $650 million. 
Grayscale Investments, an institutional-grade digital asset manager, is also making headlines based on its appetite for Bitcoin. It has revealed that its total asset under management (AUM) stands at $19 billion with BTC taking the bulk at $16.3 billion.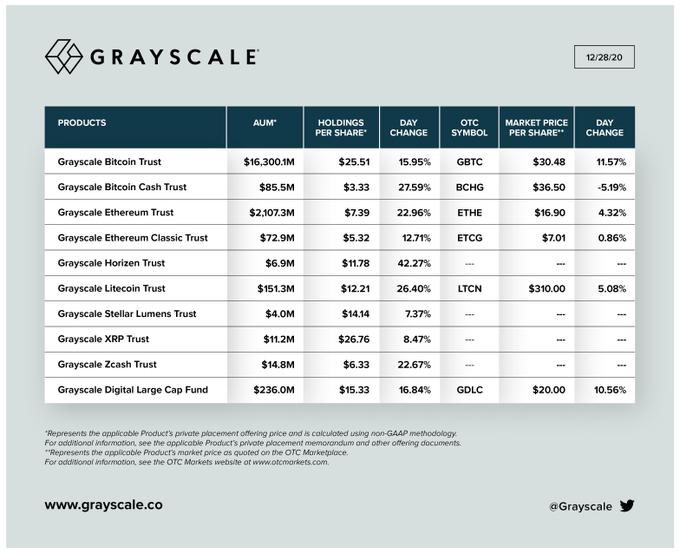 Source:Twitter
Bitcoin price is expected to rally higher as President Trump signed a $900 billion pandemic stimulus bill on Sunday night. Moreover, the fear of missing out (FOMO) is also expected to continue gripping institutional investors. 
Image source: Shutterstock