In brief
FTX is working on a contract to trade tokenized shares in Coinbase – before it debuts on the stock market.

But no confirmation when, or even if, it'll launch.

Based on FTX's previous contracts, you'd trade it for USDC.
San Francisco-based Coinbase yesterday announced that it has confidentially submitted a filing for an Initial Public Offering.
But while public investors must wait until Coinbase hashes out the details with the US Securities and Exchange Commission, crypto exchange FTX has reportedly jumped the gun, and may soon let its customers in on a pre-listing futures contract market for shares in Coinbase, FTX's CEO, Sam Bankman-Fried, reportedly told Coindesk.
Bankman-Fried is reportedly working with CM-Equity, the German capital markets firm FTX partnered with when it launched tokenized stock markets in October, to work out whether the market would be compliant. Decrypt has reached out to Bankman-Fried to confirm these claims but received no response by time of publication.
An IPO is kind of like an ICO, although instead of cryptocurrency tokens, up for sale is shares in a company. And instead of avoiding the US Securities and Exchange Commission like the plague, Coinbase is embracing the regulator and will only run the IPO with the SEC's blessing.
Coinbase raised $547.3 million in funding since it was founded in 2012, according to CrunchBase data. Crypto market analysis firm Messari valued the exchange at $28 billion. In July, Coinbase disclosed that it has 35 million customers.
FTX launched a similar pre-IPO market for Airbnb ahead of its launch on December 10. When Airbnb's IPO launched, shares more than doubled in price.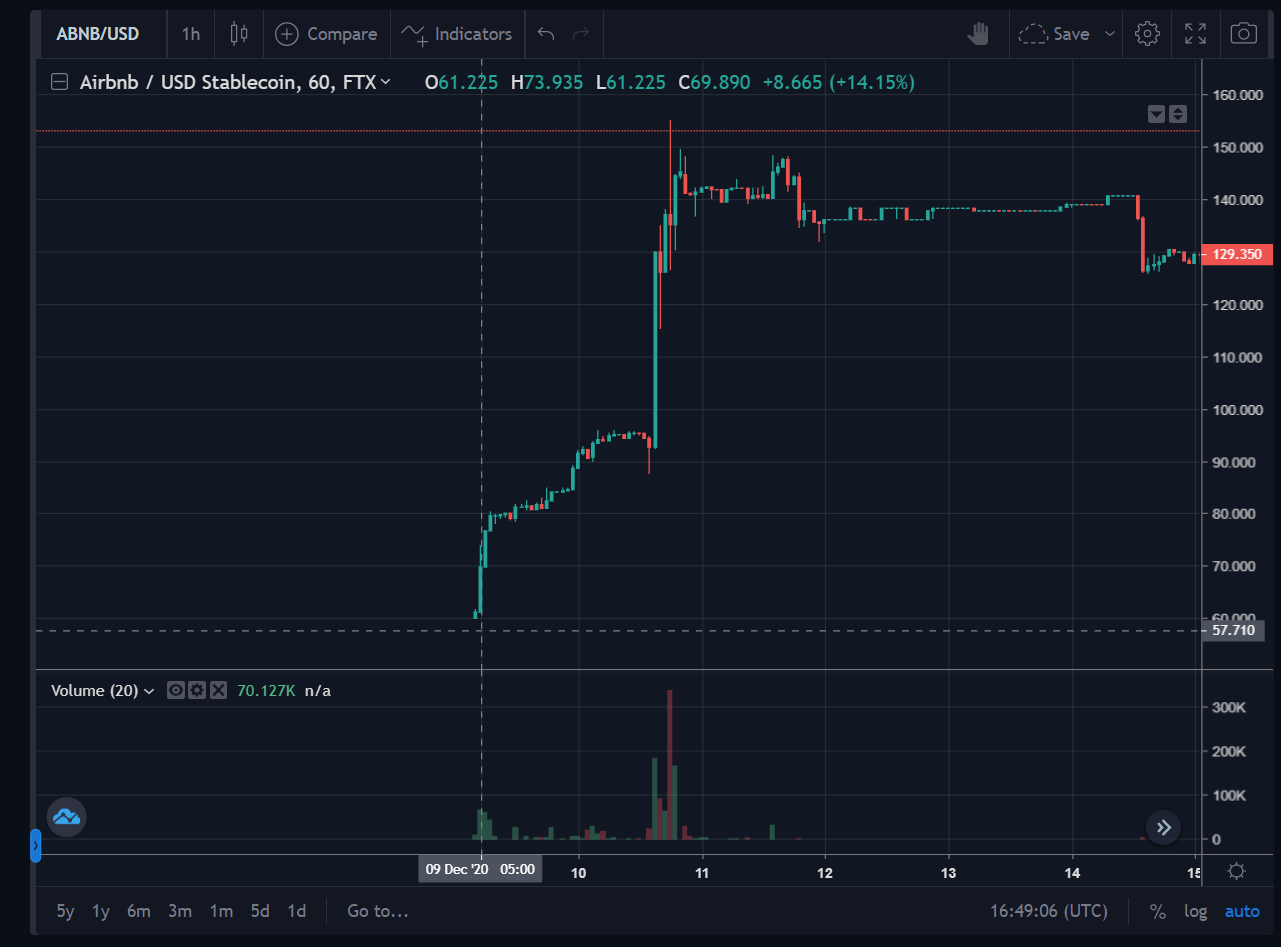 So, how to buy a stake of this hypothetical Coinbase pre-IPO contract?
Well, on the assumption that it's no different to the AirBNB contract, you'll have to sign up for FTX, then buy some of the US-dollar-pegged stablecoin, USDC. Coincidentally, USDC is run by Centre, a Consortium of crypto company Circle and…Coinbase!
To buy some USDC, you can buy it straight from crypto exchanges like Coinbase in exchange for fiat currencies, or trade it for another cryptocurrency, such as Bitcoin.
Then, you can swap your newly purchased USDC for FTX's tokenized Coinbase IPO stock. And voila! A tokenized piece of Coinbase CEO Brian Armstrong himself. Which piece will you buy?
Disclaimer
The views and opinions expressed by the author are for informational purposes only and do not constitute financial, investment, or other advice.