Ripple's XRP token has been all the rage lately, making headlines left and right due to its relentless surge in the past week. Currently, its price has pulled back slightly, but the bull run and the talks revolving around XRP have benefited Ripple overall.
At the time of writing, Ripple's XRP price has pulled back, down 30% on CoinMarketCap in the last 24 hours. However, blockchain analytics provider Santiment has asserted that XRP has excelled in one key area. Social discussions revolving around Ripple has escalated, especially lately.
The Ripple (XRP) effect 
For the first time since April, Ripple may have pinned investors' interest more than Ethereum (ETH), according to behavior analysis charts. Ripple has been talked about and discussed more than Ethereum lately, and this may be significant since it may indicate that market sentiment around XRP is growing stronger, potentially surpassing Ether (ETH) as a preferred digital asset investment. Per the announcement:
"The daily social volume (mentions on #crypto platforms) of $XRP is on the verge of surpassing $ETH for the first time in 7 months. This crossover would be significant, as it signals change in interest level between the two assets, regardless of positivity."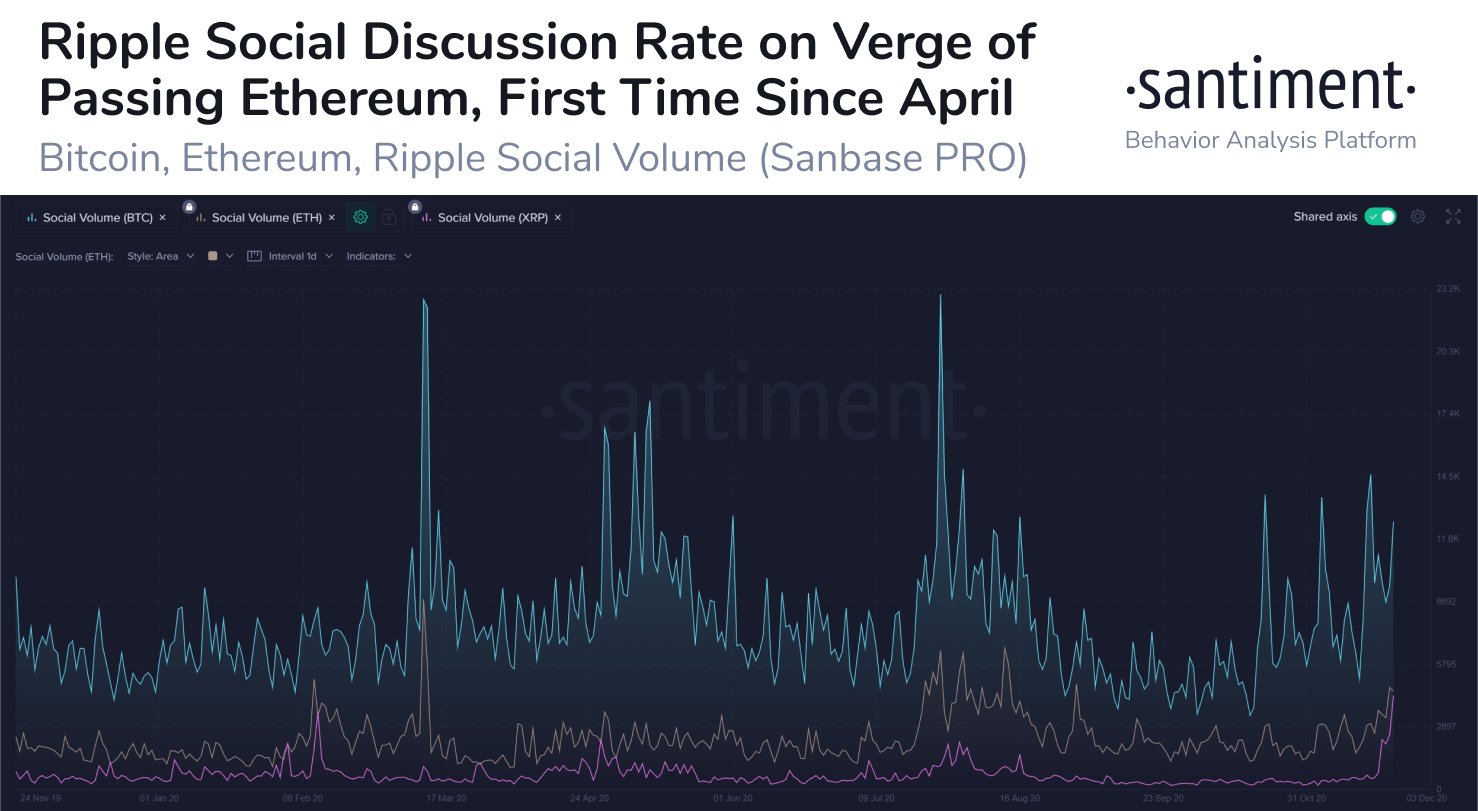 Source: Santiment via Twitter
According to the chart illustrated above, which displays Bitcoin, Ethereum, and Ripple by social volume, or popularity, Ripple has captured increased investor interest and this digital asset may soon be mentioned more than Ethereum. The purple line is an indicator of Ripple's social volume, with the orange one and blue one representing Ethereum and Bitcoin respectively.
The development of XRP Ledger, the underlying distributed ledger technology backing XRP, has increased in activity by five-fold, compared to 18 months ago.
Ripple's price has gained new heights
Ripple's social volume, as well as the technology company's new projects, have coincided with the XRP token's rise in price. According to CoinMarketCap, XRP gained by nearly 140% in a month. Its rise in price has been said to be influenced by many factors, per market experts.
In just a week's time, Ripple's XRP token outperformed both Bitcoin and Ethereum on the market, as it regained its position as the third-largest cryptocurrency by market cap, after previously having been unseated by Tether (USDT).
A stellar performance by XLM
XRP is not the only altcoin that has been outperforming lately. Recently, Stellar Lumens (XLM) recorded gains of over 155% in a week, as it went through a protocol update. This was implemented by validators on the network and will provide a more seamless experience for users on the Stellar network.
Stellar Lumens is a modified fork of Ripple. It was also initiated by one of Ripple's co-founders, Jed McCaleb. Similar to Ripple, Stellar also operates as a payment technology designed to connect financial institutions and improve cross-border payments through lower costs and improved time efficiency.
Ethereum has something up its sleeve too
With Bitcoin's recent bull run driving altcoins higher, who is to say whether or not Ripple may surpass Ethereum in terms of investment popularity in the long run. Currently, Ethereum awaits the launch of ETH 2.0 mainnet, which is less than a week away. With the new blockchain segment implemented on December 1, its native cryptocurrency Ether may increase in value.
Image source: Shutterstock